CSO/CAB Installment Loan
For Texas residents, Aleman Financial Services will not be the direct lender for loans that you may receive from this website. Aleman Financial Services is a Credit Service Organization and a Credit Access Business ("CSO/CAB"). The role of the CSO/CAB is to try to arrange for a loan between you and a third-party lender, service that loan if the loan is funded and provide the third party lender with a letter of credit for your loan. If you have any questions regarding your loan, please direct all questions or comments to Aleman Financial Services (210-469-6633) and not the third party lender.
Min First Loan Amount: $100.00
Maximum First Loan Amount: $1000
Max Amount: $1500.00
The Loan Term can range from 4-6 months
Total Interest and CSO/CAB Fees Rate: Combining both the Interest Rate and CSO/CAB Fees express as an Annual Percentage Rate. The APR may be 599% APR however rates and interest may vary based upon on the loan amount and applicant's qualifications.
The Third Party Lender will charge an interest rate not to exceed 10.00% per annum and the Credit Service Organization/Credit Access Business will also charge fees.
Actual loan terms may vary based on applicant's qualifications.
Number of payments is determined by your employment pay frequency. Your loan will be contracted for at least 120 days and not more than 180 days.
You may pre-pay your loan at any time without penalty and only pay interest accrued up to the date of in which you have incurred.
You have the right to cancel your loan within 3 calendar days of signing your loan docs. Cancellation Forms will be provided with your Loan Documents.
*All Fees, Interest and Loan Terms are subject to vary by state
Sample Fees and Rates
–The CSO/CAB Fees will vary based on your loan amount and qualifications. The Third Party Lender will also charge interest at a Rate not to exceed 10% APR.
CLICK BELOW FOR EXAMPLES OF CONSUMER DISCLOSURE FORMS WHICH ARE REQUIRED BY LAW. THESE ARE EXAMPLES OF THE TOTAL COSTS AND FEES ASSOCIATED WITH THE DIFFERENT LOAN AMOUNTS OR PAYMENT SCHEDULES
(PLEASE NOTE YOUR ACTUAL PAYMENTS MAY VARY):
STATE AGENCY // NOTICE REGARDING CONSUMER CREDIT
Aleman Financial Services obtained a license with the Texas Office of Consumer Credit Commissioner. You may contact the Consumer Credit Hotline for information or assistance. Office of Consumer Credit Commissioner, 2601 North Lamar Boulevard, Austin, Texas 78705-4207, (800)538-1579, consumer.complaints@occc.texas.gov, occc.texas.gov.
The Loans or extension of credit obtained through an installment or payday loan is not intended to meet long-term financial needs and should only be used to meet immediate short-term cash needs. Refinancing the loan rather than paying the debt in full when due will require the payment of additional charges.
Please call us at 210-469-6633 and your Loan Officer will provide you of the exact rate, fee and payments for your loan.
Click here or click below to view our CAB License.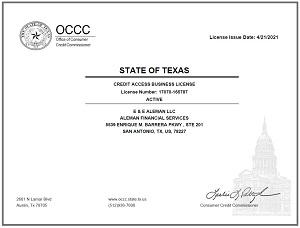 – Please see below for additional loan details –
- Minimum first time loan - $100
- Maximum first time loan - $1000
- Loan terms range from 10-12 months with no prepayment penalty **
- Annual Percentage Rate (APR) is approximately 599% **
**Actual Loan Terms, Fees, Interest and other loan terms vary based on applicants qualification and vary by state